Born Leonard Cornell Mayes on April 5, 1951 in Detroit, Michigan
He attended Pershing High School, along with Larry Demps and Elbert Wilkins.
Before joining the Dramatics, he sang with the Casanovas and the Sunrise Movement.
He became a member of the Dramatics in 1973, around the same time as L.J. Reynolds, to replace Elbert Wilkins.
He wears glasses for reading, and when the Dramatics are not touring, he sells real estate and does medical transcription from home. His nickame is "Cuz".



His favorite Dramatics song is "I Cried All the Way Home", and his favorite songs to perform live are "Whatcha See Is Whatcha Get", "In the Rain", and "Be My Girl". Other favorite songs of his include "I Can't Get Over You", "Be With the One You Love", and "Better Love As Friends" from the Look Inside album.
His favorite singers are Marvin Gaye, Peabo Bryson, the Whispers, and the Temptations.
His favorite food is seafood.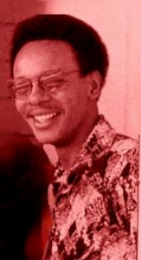 Lenny sings baritone, second tenor, and lead. Most of the songs on "The Dramatic Jackpot" are led by him. He also led a few of the songs on the "Shake it Well" album, such as "You Make the Music, I Dance Along", "That Heaven Kind of Feeling", and "I Like Making You So Happy". In concert, he leads the live version of "In the Rain".



He decided to become a singer in high school, after doing a few talent shows and receiving great praise and applause.
When it comes to style, Lenny is quite stylish and loves to dress... period. He is known for the long, dangly earring that he wears in his right ear, and back in the 70s, before he got his ear pierced, he wore a silver spiral ring on his right ring finger. (Pictured below)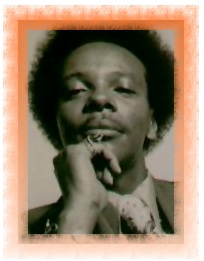 On November 8, 2004, Lenny died of lung cancer, but he will always be remembered fondly by his fans and loved ones.



R.I.P., Lenny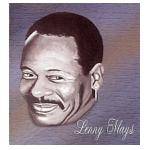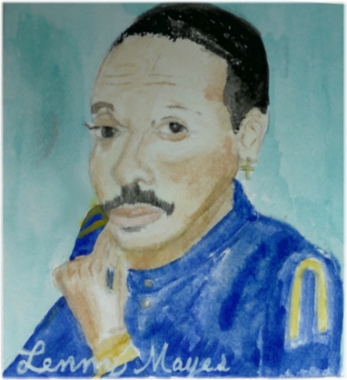 "Lenny" in watercolor
LENNY LINKS: