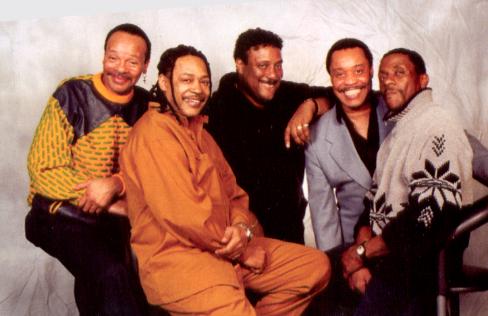 Read reviews of Dramatics concerts or post your own!
***UPCOMING DRAMATIC CONCERT DATES!***
Do not miss your chance to see the Dramatics LIVE! Scheduled concert dates are as follows:
October 5, 2002
Bayfest
Mobile, AL
For more information, please visit
*******NEW CONCERT REVIEWS!!******
Date: April 5 (Lenny's birthday), 2002
Location: Los Angeles, California
Concert Reviewer: Drama On Paper Only
I left Moreno Valley at 5:00pm sharp! One thing I know, that California traffic is no joke. I arrived at what was known as the Universal Amphitheatre about 7:10pm. Showtime is at 8:15. As I walked through the Universal Walk I could feel the excitement as I got closer to the theatre. People everywhere, dressed to kill. Beautiful couples laughing and gazing into eachother eyes with that look of expectation, knowing they were in for a evening of melodrama. Tom Joyner came out and did his thing (he was funny) then came out the Temps. They were really good. They have great voices and had the LA crowd to it's feet. When they left the stage, Tom Joyner told the crowd that the Dramatics were up next, and the place went wild! After a brief intermission, the Dramatics Players took control, all I can say is WOW! They were in full gear with a Musical Director and Orchestra which included five violins. I have never heard them sound so good! Then the mighty powerful Dramatics took center stage and went to work! Out came Ron, LJ, Lenny, and Wenzell, no Willie, but they had a standin bassman who sung behind them, and he was good! The Dramatics dressed in Black long jackets with two 4" silver stripes on them, silver shrits, black pants, and black shoes, they were sharp! Ron Banks is a showman above all showmen! He and the Dramatics know how to "sit you down and entertain ya." The stage was so beautiful for the Dramatics, it was a black background with hundreds of blue stars, it was very dramatic. These cats sung, and sung. They did all that DDIVA wrote about in her Atlanta review except for Willie's part. Our Dramatics torn the house down, after they rebuild it,it has to renamed the "Dramatics Amphitheatre At Universal". Just before they left the stage they had this wonderful young lady rapper, rap to the song "Get Up Get Down" and she was great! Then it was over, people trying to collect themsevles to get ready for the O'Jays. The O'Jays were finishing the throwdown of the theatre when I left after three songs. You might be asking 'why did you leave so early?' well I paid my money for the Dramatics, and for "me" the other groups are a bonus that I can take or leave. The Tempts were the "appetizers" the Dramatics were the "main course" and the O'Jays were the "dessert". The main course was so good, I did not have room for much dessert!
Date: March 31, 2002
Location: Detroit, MI
Concert Reviewer: Wendal'sSis
I really had a great time. Outside the Fox, there were two white stretch limos. (not the Drams)
Just before the show started, there was a kmart commercial playing with ChakaKon (sp) singing. When Tom Joyner came on he said Kmart is help sponsoring the Tour and for us to shop at Kmart and keep the stores in the area, so Kmart can keep sponsoring. Please!!!
The REVIEW was first. Dennis had on a red suit, two of the other guys had on yellow, and the other two had on fusha???(lavender. They were very colorful. And they had the four mike stand, like the one DRuffin invented. What I liked about the REVIEW, BERNARD sang "My Baby", and he sounded surprisingly good. (I am particular about those that sing Ruffin songs.) DSEA tore down with "You'll Lose a Precious Love". Ruffin would have been proud.
Later I asked DSEA if he would see if he could record that song. He said he has nothing to do with what is recorded, but I could talk to someone else. I didn't ask who.
The DRAMATICS. I am trying not to be so prejudice for our guys. I want to be fair in my opinion.
First the disappointing news. LENNY WASN'T THERE. . (It is nothing to worry about) He will be at the next gig. L.J's cousin, Donald, stood in the back by the band with LENNY'S Jacket and sung the background for Lenny. He was groving back there, but he didn't do any lead, and he didnt come out in front. They introduced him.
So, CLEVELAND, what did you all do to LENNY, my favorite DRAMATIC?
Second: SQUIRRLE wasn't there. He is under the weather.
The DRAMATIC PLAYERS were great. I saw Marty, and talked to him. He said he couldn't find the link to the board. I promised to email it to him. So maybe he will start posting again.
The DRAMS had on that blue outfit with the long jackets, with the diamond arrow studs going across the shoulders, with a white shirt ruffled collar. They sang all the hits. WINZELL sounded nice doing that rap. Actually, it sounded more like reggae, on the Bob Marley style. (I love to watch Lenny dance) Since LENNY wasn't there I concentrated on WILLIE. WILLIE was getting down with his steps. He looked really great and we all enjoyed him as he sung his bass lines. I yelled his name a few times, to let him know we were pleased with his singing. L.J. seems to get better and better. This tour is really good for him. That man sang his heart out. His voice was so clear.
And you know RON teased the crowd. Acting silly, and really having a great time. Then they did the skit. It was really great. I laughed so hard at L.J. He had the crowd going. He was great with his James Brown act. And RON, came out bobbing his head from side to side, like Stevie. (He outa quit)
Then out comes Issac Hayes. I didn't recognize WILLIE at first. He had on the cape, I think it was gold colored. He didn't have a shirt on so you could see his chest. (ummm, not bad.) And he sounded so good singing Issac's song. I was really proud of him. He seems like my little brother.
Everything was great, except the two people behind me. They were yelling profanities whenever something didn't go their way. (luckyily DIVA wasn't there to hear it) (While the REVIEW was on, Mr. Wendal came to my seat and gave me the backstage pass, and a camara) So, the people in my area rightfully assumed that I knew the DRAMS. So, when the lady yelled something not so nice, she said "Oh, I'm sorry, those are your people aren't they". I said, "That's ok" but I wanted to say you paid $77 dollars to act like a #$@%.
I went back stage after the DRAMS to get my pictures autographed. L.J. had already left. (That was fine though, I know he couldnt wait to get home and get to bed. They are leaving out about 8pm tomorrow.)
The O'JAYS....Although they were hear not to long ago, I hadn't seen them for years. I was real excited about seeing them. They had on cream colored pants, and the top of the jacket was light yellow, and the bottom half of the jacket was baige. Quality suits. They were really struttin. Back in the day, I usually just watched EDDIE, because he lead most of the songs. But tonite, (I'm a little older now) WALTER amazed me with his sulky voice. He sounds exactly like he did in the 70's. EDDIE just make you wanted scream. I did a few times.
E D D I E!!!!!!! "Sang yo song" I didn't care about the lady in front of me. She should not have worn that high hair style. I kept bumping into her hair. She kept looking back at me frowning. I started to call the DRAMS body guard . "HOLLYWOOD" "Come over here and get this false hair lady outta here." (I'm just geeked, Yaw, just ignore me. I get this way sometimes.)
The O'JAYs sung all of my songs. Four peice horn section, and five strings, and I think I saw two other instruments in front of the stings. They looked like...Well, you know those giant sized violins that they put the bottom on the floor and stand the instrument in front of them. JIMMY, the bass player for the O"JAYs has a picture in the book "Standing in the Shadows..." And he is doing a tune on the CD of that book.
I had so much fun. One right after the other. Each and every song that you wanna hear. My favorite was "Stairway to Heaven". I got hoarse from screaming during that song. He can still step, even though he has a pot gut. He talked about how fat he had gotten. And out comes GERALD. He did a number with them. The crowd went wild. I'll tell you, Detroit really welcombed the Mighty O'JAYs.
After the show (even though I didn't want to go to the dressing room) but Mr. Wendal wanted a ride home. My poor feet! I'm glad I went. I met people from Russia. I think they were a part of the orchestra. We talked about Bob Babbit, Joe Hunter, and the Documentary on the Funk Brothers.
He said he took a lot of pictures during the filming in Royal Oak, a suburb of Detroit.
Anyway, each group did a full concert. And you know Tom Joyner did his thing.
I told WINZELL to come and post on the board. He didn't know whether he had visited Yahoo or Imusic. I told him to find Imusic, as that is where a lot of discussions are held. I didn't get home until about 3:00. But I'm posting anyway lest I forget. (Memory going as well?) If I can think of anything else, I will post it.
"Dont Miss This Concert Tour"
Date: February 16, 2002
Location: Philadelphia, PA
Concert Reviewer: Brendeeva
THERE GOES QUICK DRAW AGAIN!!! Our guys are just SENSATIONAL!! to say the least. To better say it, we can use each word that we used on the IMUSIC Board to describe them, no question. They were dressed in black and white and looked just too handsome for words. The suits were black with white ruffled shirts, and the jackets were long. They certainly were in rare form too, just cuttin up and showin off. They just took the show and I must add as usual. They shared the Bill with, The Persuaders, The Delfonics, The Chi-Lites and The Stylistics. The usual happened, the folks started leaving after our guys. And just think, all the groups were local there in Philly except The Chi-Lites and our Drams. What does that tell ya?
I really need to leave that JUICE alone!!! Again, the batteries in my digital camera were drained but I did manage to get a few back stage pictures, which I'll certainly share when I get them developed which will be tomorrow. I want to also report that Willie is doing just fine. I told him how worried we were about him after he had gotten sick during the taping of the Christmas show. He really appreciates our concern.
Diva, this comment is especially for you. L.J. was serenading us in Spanish this morning and I might add that he speaks or should I say sings it quite fluently. Our guys are just FABULOUS. They are really looking forward to doing the tours with The Ojays and Dennis Edwards and The Temptations Review. I also told each one of them just how much that we LOVE the new CD and they are just so happy about that. By the way, they didn't sing any of the songs from the New CD, I wonder if that was a contractual thang? I know this is lengthy but let me say this. I beat it back down the road this evening from Philly, took a nap and then went to see The Temptations and for you ladies, "BO" came off stage and serenaded me, ooooohh la, la, la, la. I got pictures!!!!
I just LUV yall
Dramatically yours
***OLDER CONCERT REVIEWS (MAY 1, 2000-SEPTEMBER 23, 2001)***
Date: May 1, 2000
Location: St. Louis, Missouri
Concert reviewer: DramaLenn
I'm sure glad I dressed very well and looking ravishingly beautiful I might add because the folks came dressed. 90% of the crowd was middle-aged. Gentlemen were dressed in suits & hats and arm in arm with their honeys.I saw one leisure suit.LOL Ladies were looking like ladies. Folks strolled in the theatre with cocktails from the bar in the lobby and couples held hands and stole kisses from each other. there was an aura very reminiscence of the 70s.
St. Louis came to party and party they did! My seat is a great one but I wish I was up closer to the stage. The Delfonics are good. Harold Melvin's Blue Notes featuring Sharon Paige are exceptional! Man, did they sing! They pacified a little but I'm ready for the Dramatics. The Chi-Lites were very good too but I'm glad they're gone because the Dramatics are on next
The Dramatic Band is setting up and the DJ who announced the previous bands is killing time talking about the Dramatics' hits. The band informed him that they were ready and the DJ turned tothe mike to introduce the Dramatics. The Dramatic announcer walks up and tells the DJ to hit the road and that he's announcer the Dramatics. Bye, bye Mr. Local DJ. The Dramatics have their own announcer.
"Everybody in the house on your feet", shouts the Dramatic announcer and the band starts playing the DRAMATIC THEME and the crowd starts movin' to the beat. Then announcer starts quieting the crowd. It's quiet now. Silence is golden.
The Dramatics start singing back stage. You know it has to be them. Who else is singing with that beautiful harmony. I don't recognize the song their singing but I've got ThAT HEAVEN KIND OF FEELING JUST LISTENING TO THEM.
The Drams stop singing and the band starts playing the DRAMATIC THEME and the crowd starts clapping and roaring and the announcer presents the Dramatics!
IN DRAMATIC FASHION the Dramatics walk out on stage handsome as ever, debonair and every other word you can think of to describe these five beautiful men! Dressed in champagne colored satiny textured suits and shirts and matching shoes, they were strikingly handsome!!! The ladies in the house went wild and a few of the men did too!! I had to fight to keep from passing out!
At the mikes, from left to right stood Ron, Winzell, LJ in the center, Lenny and Willie on the end. The Dramatics. I can hardly believe I'm seeing them! Lenny and Willie are just as slender as they were in the 70s! Ron and LJ are heavier yet well proportioned. Winzell is somewhere in the middle. No over-belly hang no where in sight. Willie, LJ & Lenny wear their hair cut very close. Ron has short soft au natural curls. Winzell has a short cut. Lenny and Winzell each wear a gold loop in one ear. It's evident that the Guys maintenance themselves well.
The Dramatics sang their hearts out and they still got the moves. Lenny is very high energy and dances all over the stage! He beez working the stage. He likes to get close to the edge of the stage and sing his leads. Willie is as smooth as ever. They are all synchronized with the moves. They sang 13 songs. No medleys here!. They sang: HEY YOU! GET OFF MY MOUNTAIN, IN THE RAIN(Lenny lead), FELL FOR YOU, LJ brought the house down with I CAN"T GET OVER YOU, and yes he said " This is J,you know LJ Baby", THANKFUL FOR YOUR LOVE(WInzell lead), WHATCHA SEE IS WHATCHA GET(the Guys were kicking it), BE MY GIRL, ME & MRS. JONES, DOOR TO YOUR HEART( LJ torn it down again) DOG POUND( their Snoop Doggy Dog song) they all rapped on that one and had a young rapper on stage with them, DO WHAT YOU WANNA DO( HELLO all the Ronafied ladies in the house! Ron messed them up!) SHAKE IT WELL(GOT SOME BUTTY SHAKING FROM LJ).The crowd sang along on the songs. The Guys loved it. Great audience interaction. They teased the audience and each other. Winzell & Willie were the quieter ones. Lenny was wild and working all over the stage, shaking hands with the audience up front. Ron , LJ & Lenny did alot of talking in between songs. Lenny & J teased each other. LJ asked the crowd if they knew he had a new cd out. I yelled," I do, LJ. I have it". He talked about and said there were some great songs on it & that the Dramatics had done a great song on it. Ron acknowledged JESUS CHRIST as LORD AND SAVIOR on behalf of the other Drams and himself. Ron was joking about the music todays music and bent over and backed that thang up! That was sooo cute!!
Date: May 31, 2000
Location: Anaheim, CA
Concert reviewer: DramaLenn
After the Dramatics' band finished setting up, the announcer gets the crowd on their feet. The Drams start harmonizing back stage. This time I recognize the song they're singing. "Let us entertain you...." The song Ron and LJ sing on the R&B page audio clip.
The audience is on its feet and ready to have a good time. before the Drams can finish their prelude the audience starts clapping and cheering. What else can the announcer do but introduce the Mighty, Mighty Dramatics from Detroit!
Before a small, intimate theatre group the Dramatics proudly walked out on stage dressed in their champagne colored attire. If you thought they looked handsome in St. Louis then look again.They beez looking even better!!!
The Dramatics start their concert with HEY YOU! Because the Sun is a small, intimate theatre, the crowd made friends easily and it was very obvious that the guys were more relaxed as they interacted with the audience. Willie did alot of talking this time. You couldn't miss his booming voice!
Ron talked to the guys about their ladies and did a special tribute to the ladies in the house. And yes DMill, he sang LADY IN RED center stage, spotlight all by his lonesome on stage!!! The other Drams disappeared. The ladies swooned and some nose-dived to the floor.(hey DT is that a dirt nap or what?) They sang many Drams' favorites as they did in St. Louis but they added the Dramatics as the Temptations and did a few Tempts sounds with that ever favorite Temptation walk. They are very good!
I was able to really focus on the guys at this concert. I could see everything, every gesture, every move and that was a very good thing. When I called out their name they responded. That's how close I was. Ron was standing on my side of the stage and blew me a kiss when I called his name. Lenny came over to my side of the stage and looked at me and smiled and waved. LJ while talking to the audience looked directly at me. I was really close up and the best part is I took their pictures!!! Sorry Drams I hope I didn't blind you.
Please take your cds and wave them in the air. I forgot mine. A man in the front row answered when LJ asked if anybody knew he had a new cd out. When he heard the guy answer with a postive, LJ went over and spoke to him.
The Dramatics stayed on stage for a longer this time. There were only 3 groups appearing which allowed the Drams more time. They sang and danced more.They also talked, teased and played with the crowd and among themselves. Anaheim gave them a standing ovation as they left the stage. Ron and Lenny were the last to leave the stage. They took their time and shook the audience's hands and waved, bowed and blew kisses. I took Lenny's picture when we made eye contact before he left the stage. Once again I hated to see them leave the stage. I love these guys! They put on a fabulous show. It is truly DRAMATIC.
Date: June 4, 2000
Location: Los Angeles, CA
Concert reviewer: J-LJBaby
OHMYGODOHMYGODOHMYGOD!!!!!!!!!!!!! I don't even know where to start!!! Just got home from seeing the best performance in the WORLD! Y'all they sang, danced, flirted, and even RAPPED!!! Okay, let's see...(I am soooo hyped)...okay they had on Royal Blue Satin Suits with White Shirts. You could hear them backstage singing "Let Us Entertain You" They came out and began the concert with Get Up Get Down...and I got up and did not sit down til they were gone!!
They had the entire audience pumped! Next, they did Whatcha See is Whatcha Get. Each song was better than the one before it...and when they spotlighted Ron (hey, nobody told me he's twice the man he used to be..LOL..that's okay, though, more to love) and he performed Lady In Red...I thought about all you guys! Then MY moment came...LJ stepped to the mike and said "This is J-LJBaby" the audience went crazy and he Ba-lew that song. It was shortened though and he didn't get into it like I wanted him to..although in the middle of it he did a little Issac Hayes and sounded alot like him too. Winzell and LJ rapped Snoop Dogg's part in Doggy Dogg World and they all had a really good time with that song. They interacted with the audience and made us laugh alot! They also did a mini tribute to the Tempts...which was glorious for me...The Dramatics doing the Tempts...complete with the Temptations Walk and a few Drams steps...I was in heaven! Okay, what happened next..oh, yeah, they did "The Devil is Dope" and it was absolutely amazing. Then they introduced themselves and when they got to Winzell (he is something else y'all) he sang a quick "I don't See Nothing Wrong With a Little Bump and Grind" and he had this little gyration thing going on which was quite nice. He was really playful the entire show. Ron made a comment that he was the spokeperson for Viagra...and of course, everyone went wild! When it was time to introduce Willie..Ron had us all sing "how low can you go...and he went pretty low...he sounded so good and from there he went right into Me & Mrs Jones. The end came much too soon. I hated to see them go...they were absolutely wonderful. The Greek Theatre is out in the open and I didn't realize how cold it was until the guys were gone...so I was freezing during the entire performance of the Stylistics (especially "Rock & Roll Baby")..LOL! They did a few numbers that I couldn't help but sing along to, and "Hurry Up this Way Again" was great...the steps and the music were off the hook! Okay, I gotta go pop in my Drams CD and TRY to go to sleep! Nite(((DRAMFAM))) Love, J-LJBaby
. I forgot to mention that a really nice thing happened when the guys performed Best Thing In My Life (BTW, D4EJK..I got pretty Ronafied when he sang that one! He gave us ladies BIG PROPS) ...a guy in the audience proposed to his lady and she said yes! We all clapped and she gave a few ladies near her a high-five...and the guys near him kept saying "noooo, brother, nooooo" Oh, and J.J. Walker was the host...remember how skinny he was on Good Times? Well, that's not the case anymore..LOLOL!!! I wouldn't have known him if it weren't for his voice! Hey DLinda, did you get the name of the lady rapper? She didn't look familiar to me, but she was really good. Oh, and LJ plugged his CD (which I HAVE to go get...TODAY) and he let everyone know that he aint leaving the group and the guys sing on the CD and the audience clapped and SO DID THE OTHER DRAMS!! That was real cute! DMill and DT...y'all are going to have a ball! Can't wait to hear the review...and since they come on second to last (is that how it worked when you saw them too DLinda?) y'all got time to come up with a plan to get backstage. Oh, and LJ didn't sing Door To Your Heart :-( ..I kept screaming it..but I guess he didn't hear me..LOL
Date: June 10, 2000
Location: Tunica, MS
Concert reviewer: Bad*A*Drama
Here is the w/e blow-by-blow. When DT and I got to the hotel, we went to check in only to find out that we were not in the main hotel, but in one about half mile away. The Grand(Tunica) had three different hotels and a resort. Okay, so DT and I are not at all daunted and go and check in at our hotel. We jump a shuttle and head back to the main hotel to do some snooping. We did find out that the Drams(along with all the groups) would probably be at the Grand Resorts cause that is where all of the big wigs stay. No problem, we get on the shuttle only to find out that it doesn't go the Resort Hotel. Only limos go there. Still no problem. We go back to our hotel and hop in my car. We drive to the Resort Hotel, but the security is tight. Couldn't get in. Okay, so now we go to Plan B(getting back stage). We get all decked out for the concert and head for the arena early. We figure that we can get backstage ifen we get there early, or, we will see someone there that can get us backstage. Well, wrong. We couldn't even get into the arena. The doors were locked until 30 minutes before show time. Okay, so much for Plan B. We got and gamble some cause we have like an hour before the arena even opens. I win $100.00, which was a $90.00 profit. I only put in $10.00.
Okay, that's "go and gamble". When the doors open, DT and I are very confident about gettin to the guys cause we have those great seats. ANT!! Wrong again. We are on the floor, but in the 26th row in the middle. YUCK!! Okay, still not frustrated. We are going to wait until it is almost time for the Drams to come on and move up in some seats that no one has taken. Wrong again, those seats are completely filled by show time. Well, we are not worried. We look for backstage entrance and spot them on each side of the stage. Security is very tight, and there is a big guy standing there that look like King Kong's baby brother, Mighty Joe Young.LOL We figure that he is a bodyguard. Hey y'all, I have to give it to the Grand Hotel(Tunica), they have great security. Okay, So DT and I go and talk to Mighty Joe Young. He is tough looking, but nice and is indeed a bodyguard. No matter what we said, he wouldn't give us backstage access.
Okay, so we are now gonna go to plan D(get the URL addresses to the Drams at the end of their performance). We go back to our seats, which are not too bad, but a long ways back. Then the show started. The Delfonics come on to a lukewarm audience. They are looking good though in their blue suits. The did their bit. I enjoyed it, but I was glad when they finished. Now comes the Chi-lites. They looked good too in their green pinstriped suits and white hats. Their show was better than the Delfonics, so, the audience was more appreciative. There was one of the singers who could blow just like Al Grits, er, I mean Al Green. Okay, Chi-lites are through. We are really excited now cause we know who is coming on next. We are armed with CDs and URL addresses.
The Drams' band set up and two DJ's from a local station are on stage joking around. They were quite funny though, but we were more interested in the Drams. Okay, so now it is time. The Drams announcer comes on stage and pushes to two DJs off so he could announce the Drams. And announce them he does. "Lady and gentleman, put your hands together for the fabulous Dramatics." The crowd went wild. Everybody standing and clapping as the guys cooly walk on stage dress in Houndstooth jackets, black shirts and black pants. And those shoes, you could see the shine on those black shoes way from where I was sitting. They were looking gooooooooooooood and hey y'all, they knew it..
Whooooweeeee!!!! They did HEY YOU, WHATCHA, IN THE RAIN, BE MY GIRL. Then they did introductions. Winzell, Ron, Lenny(who was looking for a woman he had see when he first got to the Grand. She knew who she was). Then Willie, we had to make him go lower. And finally, LJ who came out and did a little swivel hip number.("J", I hope he did that at your concert. Whooooweeeee!!) There was a lot of joking going on between Winzell, Ron and LJ. Willie and Lenny was mostly quiet at this concert. Ron did a thing to see how low he could go, so He started way up high and then ended way down low. But it was Willie who was actually doing the way down low thing. Ron told him to hush and let Ron do it. So Ron tried again, but Willie still did the way down low part. That was funny. The guys have a great sense of humor. They all pulled their jackets off(except for Ron and Willie) to do the rap number. Winzell and LJ did the rapping part. Winzell was very playful here. I was impressed with him. They did the Temp tribute with MY IMAGINATION, THE WAY YOU DO, AIN'T TO PROUD TO BEG. Hey y'all, the did the Temps proud, um telling yah. Then they did MRS. JONES. Willie got all kinds of applause with that voice of his.
Ron joked with the audience about rap music. He then BACKED UP THAT THANG. Winzell came over and told him that he couldn't be doing that kinda stuff on stage. The Drams don't do that kinda stuff. Then y'all, Ron did the BUTTERFLY. Whoooweeeee, that man can still move. We(the audience) loved it. LJ did CAN'T GET OVER YOU. That made the women swoon. He did that little swivel hip number again when he said something about how sweet your love was and that is why I can't get over you. Ron, Winzell and LJ did most of the talking to the audience. You could tell that they felt quite comfortable relating to their audience. Ron even did some skatting. He could have been a jazz singer easily. Then LJ told the audience that there was one thing that he wanted them to do and to get op on your feet. They did the clap your hands number and then went into GET UP GET DOWN. And that is exactly what the audience did. DT and I decided that it was time to put Plan D in motion. We fought our way out of the middle of row 26 and started making our way up front. DT on one side of the stage and me on the other. We were going to personally hand one of the Drams the URLs. I was going for Ron and DT was going for Willie or Lenny. But y'all, we didn't even get half way. Those women were on the Drams like white on rice, ugly on an ape, etc, etc. By the time we got anywhere near the front, the Drams had already gone off stage. But we did give the URLs to one of the Security Guards who promised us he was going to give them to the Drams. DT told him that we were witches and that we were going to cast an evil spell on him ifen he didn't. He laughed and walked away toward the backstage area. We can only hope. Sorry guys, but all of our plans were a bust. Really disappointed now, we went back to our seats. The lady sitting beside DT said that if she was the next group that she wouldn't want to come behind the Dramatics. They were just that good. Oh yeah, LJ did promote his CD. DT and I waved ours, but we were too far back for him to even see us. Sheesh!!
Date: January 26-27, 2001
Location: Dover, DE
Concer Reviewer: Brendeeva
Hello, Hello Dramatics Family!!! Am I tired but I just had to drop by to tell you all that both Concerts were Da Bomb!! Our Guys just showed off. Our Guys are just PHENOMENAL performers which were already knew and they look good too! One of the first things on my agenda was to find out the correct spelling of Mr. Kelly's name. Coming from Mr. Kelly himself, the correct spelling of his first name is..W i n z e ll Now we have it. I was wrong about being able to take photos. I got em. I took some with both the digital and my regular cameras. I will of course ask DramaticSoul if she would be kind enough to post them for us. L.J. had a wonderful celebration. They presented this huge birthday cake to him on stage, and I got it on film. Once I get the pictures developed, I will share with you all. The party continued on and on and on after the show. and the champagne was flowing, we had a BALL! The Dramatic Players were true to form as well, I mean they all showed off. The crowd loved every minute of it. I just wanted to share this with you all before I drag my self to bed early of course, cause I know you were waiting for the update. Dramatically yours, Brendeeva!
Date: February 17, 2001
Location: Detroit, MI
Concert Reviewer: Shakmani
oooohhhhhh!!!LJ know he can clown! and winzell really enjoys doing his RAP. i wasn't the lady in red, but they were definitly the MEN in BLACK !! someone in the croud said "looky, the BASS PLAYER done got happy!! B back with more comments!!
OK ((wendals sis)) so winzell's name is finally spelled right. LOL ((Drama Family )) the crowd went" Squirrel! Squirrel! Squirrel! when he ran up on the stage singing..my N...a...M..e ..Is SQUIRREL....best shaker n the world.... shake it... shake it... shake it....he would say shake it on down... and RON B would really shake it .. down to the ground!! then the rest of the guys would shake it down to the ground(lookin good!! the audience went wild !! YOU know that some in the audience would shake it down too (myself included)((dlenn))((dsoul)) have plenty of pictures ((Bad*))love the dramanglish((*))i am basking in the glow... hahahaha!! ((djbaby)) once the rain start falling... on my face.....oooh!!.. tore it down!! a little disappointed when they only sang a little of Toast 2 The Fool...(my favorite) back with more later! THE DRAMATICS and THE DRAMATIC PLAYERS !!!3 cheers!! 3 cheers!! 3 cheers!! 3 cheers!!
by the way, nobody held me back! hahahaha, just ask mr wendal, i was here, there and everywhere LOL with my camera of course. mr wendal, im over here!! mr wendal im over here now! hey (DramaFamily)) we had great seats, but I took a chance, kicked off my shoes and got right up there!! hahahaah!!I had fun, fun, fun, fun!!
Date: March 31, 2001
Location: Compton, CA
Concert reviewer: Drama on Paper Only
Standing behind the stage under the sunny skies talking to some of the people I saw the white limo pull up 30 yards to left of the stage, just out from the sight of the crowd in front of the stage. Lenny stepped followed by LJ, Wille, Ron, and Winzell. The Dramatics dressed in gold satin suits with shoes to match. Picures being taken of them, video cameras everywhere. The Dramatics posing with Mayor Omar Bradley, it was showtime!!! The Mighty- Mighty, Dramatics took the stage! The crowd went wild! To the sounds of the Dramatic Players as they opened with the music to " Hey You Get Off My Mountain". The Dramatics went into high gear with " Doggy Dog World". They had the crowd partying all over the streets. The air was filled the sounds of the Dramatics from the high (Ron Banks) to the low (Willie Ford). The energy was "pumpin" ! There no Temptation songs just all Dramatics. From "Open the Door to your Heart" to "Fall in Love Lady Love". The Dramatics came to work!! After a brief timeout to be honored by the Mayor, they were Compton's first inductees into the Compton Music Hall of Fame.
Three more songs then it was over. The sun began to fade behind their backs. It ended as it began - Powerful! I took pictures with Mr. Wendal and SaxyMan. I told them they will be on the internet next week. I didn't go to the second show, I had already made plans. Who can I send the pictures to put on the net? I'm gone.
Date: April 16, 2001
Location: Baltimore, MD
Concert reviewer: Brendeeva
Hello DRAMATICS Family. I just want to tell you that our guys did it again. They turned that sucka out! Do you hear me people? They were just phenomenal here in Baltimore last night. They shared the bill with, Harold Melvin's BlueNotes, The Manhattans & The Stylistics. But family let me tell ya, our guys had the audience in frenzy AGAIN! It just amazes me how the audience reacts to them. The others just couldn't get them to such heights. They didn't do The Tempts stuff, which they don't need, because they have enough DRAMATICS material to weave their own magic. Ron's voice is impeccable, it always seems to me to be at perfect pitch, and you know it goes without saying that Willie Ford is our own Basso Profundo. I love it when he says "and I'm the Big Dog" when they do "Its A Doggy Dog World", the voice is AWESOME! Lenny had them all screaming during "In The Rain", L.J.'s voice doing "Whatcha See Is Whatcha Get" had them to their feet and you know it goes without saying that Winzell pumped them up with his rap and the choreography was on the mark, our guys can step. It was just so evident whom Baltimore came out to see you GOT IT! Our DRAMATICS. I did manage to take a few pictures (surprised huh). Again, I'll ask our own DramaticSoul if she will be kind enough to post them. I don't know yet how good they are, I was just so full of excitement to watch them in action and their performance AGAIN to know the quality of them but any way I know you all will enjoy them as usual. So much for The Baltimore Review, ENJOY! Again, hugs & Kisses to our own Mr. Wendal on his birthday.
Location: Phoenix, AZ
Date: June 8, 2001
Concert Reviewer: Brendeeva
Hello Dramatics Famalee, - I'm back filled with DRAMA! I just got back Tuesday morning from the West Coast where I had occasion to watch our guys doin it again. They blew the roofs off the suckas in Phoenix, Los Angeles and San Diego. What a TREAT!!!! I had the privilege of seeing our guys in all three places. I got started in Phoenix where the temperature outside was 109 degrees but let me tell ya, inside with "The Legendary DRAMATICS" 109 was just shade temperature. That pot boiled ovah!!! Our FABULOUS Drams were just phenomenal again, what more can I say but I just LOVE THEM!! They were at The Celebrity Theatre in the round and the audience just went crazee! I thought we love the Drams, That audience does too! Our guys were dressed in Blue & White, looking good, moving and sounding even better. I was just AWE struck. All it took was the sound of "Hey You Git Off My Mountain to send them over the edge and with each and every song the audience loved them even more. I didn't go to Sacramento but I joined them again in L.A.-Universal Studios Amphitheatre where another sold out crowd did even more lovin our guys in their brown & gold just tore it UP!! But, the last show in San Diego - Humphreys - just put me over the edge. My hotel suite over looked the marina and concert stage, and did I git silly, just down right stupid, with each and every song. My view was just breath taking, our guys were just, just, just….I'm stuttering trying to find a description for them in their cream & gold. Sleeveless jackets with gold swirls in the fabric with gold satin shirts, they were just BEAUTIFUL. They stepped to precision, hit each note with perfection and just wowed that audience. They kicked the door in, wowed Mrs. Jones, shooed us off the mountain, sang in the rain, snooped the dogg, they just did it. I'm still being Dramaticized and lovin it! Photos to follow. I was having so much fun, I didn't do all that great with pictures but I know you all will enjoy them. Dramatically yours,. Brendeeva
Dramatics Unlimited